Image >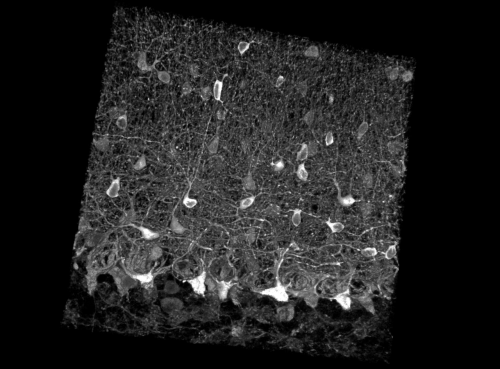 Laboratoire de Biologie Physico-Chimique des Protéines Membranaires
Tutelles >
Université Paris Diderot - Paris 7
Présentation
Our laboratory gathers biologists, physicists and chemists who are interested in the structure, structural dynamics and physical chemistry of membrane proteins, either in vivo within a lipid bilayer, or in vitro after solubilization and stabilization by classical or alternative surfactants such as amphipols.
Thèmes de recherche
The LBPC-PM is organized into 4 topics (no teams) :
→ Theme 1. Bruno Miroux, Karine Moncoq, Daniel Picot and Francesca Zito, Manuela Zoonens :
Energy coupling and supramolecular organization of respiratory complexes
Structural bioenergetics : It combines i) a methodological approach to the crystallography of membrane proteins and ii) a study of electron transfer chain in photosynthesis and respiration, centred on the linchpin joint complex: the complex Rieske/cytochrome b. It includes studies of the possible source of ROS production and the organization of the different complexes of the electron transfer chain in supercomplexes.
Mitochondrial bioenergetics: it focuses on the structure-function relationships of mitochondrial uncoupling proteins and other carriers in connection with mitochondrial metabolism. The role of fatty acid in transport mechanisms will be more specifically investigated.
→ Theme 2. Valérie Biou and Laurent Catoire :
Molecular signalling of GPCRs
We use NMR and X-ray crystallography combined with other biophysical methods to study the various actors involved in signal transduction by G protein-coupled receptors: ligands, receptors and intracellular effectors. We are presently focussing on lipid signalling (leukotriene receptors) and the Hedgehog signalling pathway. Obtaining various proteins necessarily implies an important activity of molecular biology and biochemistry. Downstream biophysical studies also include methodological development.
→ Theme 3. Philippe Delepelaire and Dror Warschawski :
Transport and membrane dynamics in bacteria
Through various methods, ranging from microbial physiology to solid state NMR, we study model systems recognition phenomena and substrate transport across the bacterial envelope, and related signaling pathways.
Within this framework, we study the transport of porphyrins across the bacterial envelope, and the bacterial response to mechanical stress. Since solid-state NMR allows the study of membrane proteins inserted into membranes, we favor the study of samples either in model lipid membranes, or directly in native bacterial membranes.
→ Theme 4, transversal. Fabrice Giusti, Bruno Miroux, Jean-Luc Popot, Dror Warschawski, Francesca Zito and Manuela Zoonens :
A toolbox for the chemistry of membrane proteins
This theme contains methodological developments necessary to the other three themes :
(1) Production of membrane proteins : approaches to bacterial molecular genetics and chemistry of surfactants are being developed for membrane protein production in vivo and in vitro with particular attention to strategies for isotopic labeling.
(2) Chemical ligands and surfactants : this module includes :
a) the synthesis and validation of amphipols functionalized so-called second generation (deuteration, biotin, polyhistidine, imidazole, oligonucleotides, different fluorescent labels...) for stabilization and purification and vectorization of membrane proteins
b) the synthesis of photoactivatable ligands and substrates for structural and functional studies
Equipes de recherche
Responsable de l'unité : Bruno MIROUX
Energy coupling & supramolecular organization of respiratory chain complexes :
*Respiratory chain complexes :
Daniel PICOT (DR2 CNRS)
Francesca ZITO (CR1 CNRS)
Nathalie SISATTANA (PhD student Labex Dynamo)
Nisha GOPAL (M2 Fullbright fellowship)
*Uncoupling protein biochemistry :
Bruno MIROUX (DR2 INSERM)
Karine MONCOQ (MCU Paris Diderot)
Manuela ZOONENS (CR1 CNRS)
Mathilde PIEL (PhD student MRT)
Technical support
Oana ILIOAIA (IE2 CNRS)
Sandrine MASSCHELEYN (AI CNRS)
Elodie POINT-BONNET (TCS CNRS)
Molecular Signalisation Pathway of GPGRs :
*HEDGEHOG Pathway
Valérie BIOU (CR1 CNRS)
Staëlle MAKAMTE (PhD IDEX SPC)
Adlen GRINE (M2)
*Study of Signal Transduction by GPCRs
Laurent J. CATOIRE (CR1 CNRS)
Marina CASIRAGHI (Post-doc labex Dynamo)
*GPCR Cristallization
Karine MONCOQ (MCU Paris Diderot)
Technical support
Annick PAQUELIN (TCE CNRS)
Elodie POINT-BONNET (TCS CNRS)
Transport and Membrane Dynamics in Bacteria :
*Biochemistry of Iron Transport in Haemophilus
Philippe DELEPELAIRE (DR2 CNRS)
Marc UZAN (DR2 CNRS)
Yvette NTSOGO (Post-doc labex Dynamo)
*Membrane biogenesis in E. coli
Bruno MIROUX (DR2 INSERM)
Federica ANGIUS (PhD student labex Dynamo)
*Solid state NMR of membranes and membrane proteins
Dror Warschawski (CR1 CNRS)
*Efflux pumps in bacteria
Martin PICARD (CR1 CNRS)
Hager SOUABNI (Post-doc FRM fellowship)
Dhenesh PUVANENDRAN (PhD student MRT)
Technical support
Oana ILIOAIA (IE2 CNRS)
Annick PAQUELIN (TCE CNRS)
Autres contacts
Institut de Biologie Physico-Chimique (IBPC)
13, rue Pierre et Marie Curie
75252 PARIS CEDEX 05
Localisation
13, rue Pierre et Marie Curie
75005
PARIS
France